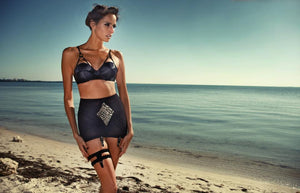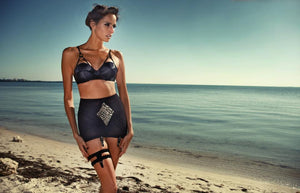 Pretty Polly
Pretty Polly Bullet Bra
This satin bullet bra is a stunning addition to any wardrobe. Wear under a jacket and high-waisted pants for a day look or pair it up with a faux-fur coat and Lock and Load Girdle skirt for minx-like allure. Smoking gun not included.
Lock and Load Girdle Skirt
This high-waisted girdle skirt is channeling amore sophisticated time. This piece has a slimming shapewear fit and 50s/60s nostalgia. The studded diamond center piece gives a sense of danger and intrigue. Wear with a cropped bustier,
stockings, and your sexiest pumps. Smoking gun not included.